About
The HTC Vive Pro 2 is a virtual reality headset manufactured by HTC. It was released in June 2021, following an announcement in May the same year. It is the company's eighth VR headset release.

- This headset requires a connection to a PC in order to be used.

- This headset has a high per-eye resolution. 2448x2448

- This headset has a high refresh rate. 120 Hz

- This headset has a high horizontal field of view. 116°

- This headset uses marker-based tracking that requires external base stations for full tracking capability.

- This headset can be purchased with two 6DoF controllers.

The Vive Pro 2 is HTC's successor to the Vive Pro, featuring an improved display with increased resolution and refresh rate.

The headset also makes use of display stream compression technology, which allows for video data to be losslessly compressed when sent from the graphics card to the headset. This has also allowed the headset to be backwards compatible with DisplayPort 1.2.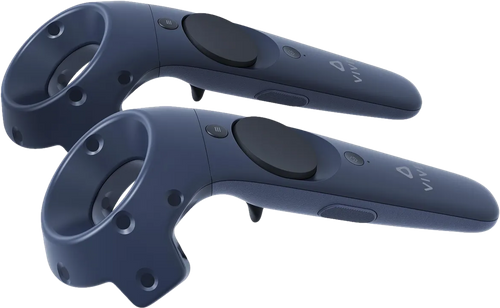 Vive Pro Controller, sold alongside the headset